It started with an uncle, as a child
Art has always been my passion which was triggered by an uncle who came to live with us for six weeks when I was 13 (much to my mother's chagrin). A commercial artist and pilot, he introduced us to smoking, drinking whiskey, playing chess, flying, and painting. He was a rakish fellow, a rogue who was on his way to live life in the Virgin Islands where he could refine his shooting skills and live life on his own terms. Having been a World War II veteran, my artistic uncle left us with pin-up girl paintings and a particularly daring painting of a young bare breasted woman standing in front of a fiery sky defending her child against a large cat of some kind. Although my dad liked it, my mom was not impressed. What I took from that whirlwind experience was a desire to become an artist and leave the whiskey and smoking behind. I try to remember how to play chess and still would love to obtain my pilot's license.
Although I enjoy painting still lifes and landscapes, my main focus is on portraiture. My studies have been in the classical tradition, a method that was not part of my initial university training. My drawings and paintings have been primarily from live models. Although I do enjoy capturing an individual's likeness, integrating an individual's story into their portrait is more important. Conceptually, my interests lie in portraying relationships, delving into the past, and exploring individual identities through genealogy.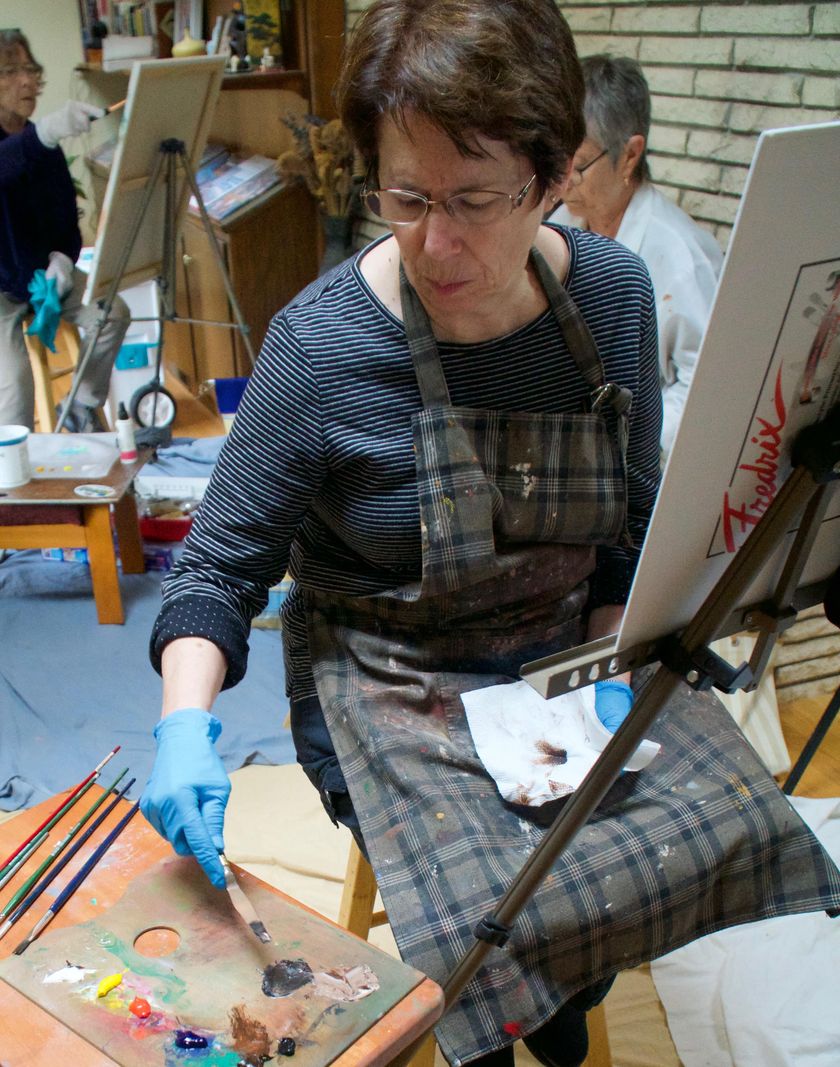 sharing what's learned is a part of the journey
Most of my paintings and drawings are done from live models from all walks of life. I work predominately in oil, but have used other mediums, e.g., watercolors, gouache, pastels, charcoal, and graphite. The paintings available represent a wide variety of ages, genders, ethnicities, backgrounds, and interests. I enjoy the process of deciding on a subject, doing preparatory sketches, and settling on a composition. The process I use is based on the classical tradition, and I have done numerous alla prima paintings which involve completing a painting in one sitting.
a love for painting and the genealogy of things
A portrait of a friend, loved one, or yourself can contribute to (or be part of) their/your legacy. If you are interested in exploring this unique experience, ideally, I would like to have you to sit for several hours with periodic breaks. I can then complete the painting from photographs once the painting has a good start. I have also worked totally from photographs, but would prefer taking them myself as portraits require special lighting to insure the best results.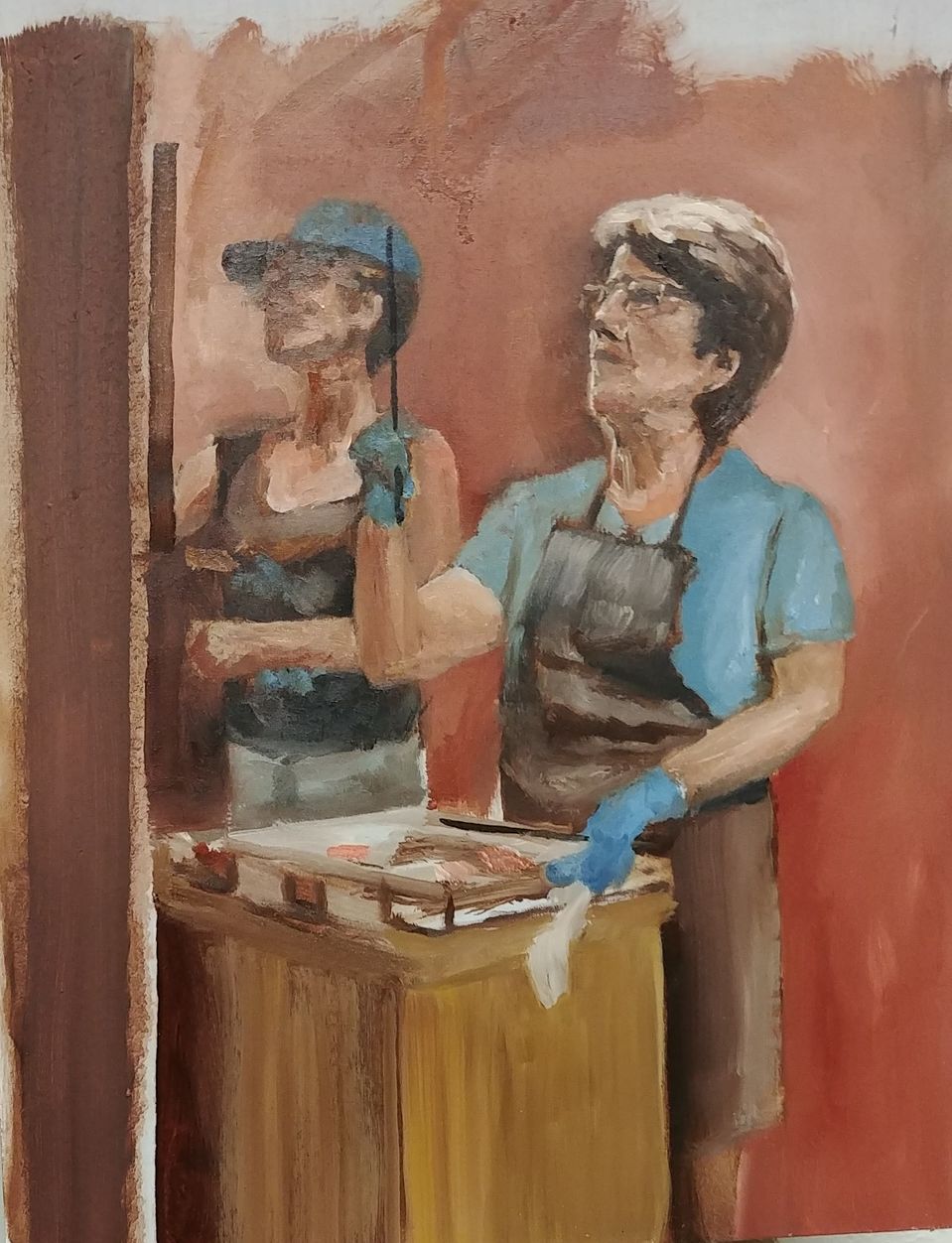 I'm available for private lessons, where you or someone you know comes to my studio to learn techniques that pertain to oil painting and/or drawing. 
 I am available to be commissioned for portraits where you or someone you know would like to sit for several hours to be painted. Please contact me directly for more details on cost, size options, and process.
South Central Visual Artists Show
Kasieta Center at Badger Prairie Needs Network; comes down Sept. 30
Full list of past exhibits by clicking the button below
South Central Visual Artists Show
Kasieta Center at Badger Prairie Needs Network
(comes down Sept. 30)
Portraits of Local Artists, 2022
Gallery Aventine
Middleton, WI
Create! A Wisconsin Art Show, 2022
Richeson School of Art and Gallery
Kimberly, WI
Artsy Shark, Virtual Artist Showcase
virtual exhibition

Wisconsin Regional Arts Program Virtual Group Show
virtual exhibition
Create! A Wisconsin Art Show
Richeson School of Art and Gallery
Kimberly, WI 
Portraits
Wisconsin Regional Arts Program Group Show, Pyle Center
Madison, WI
Portraits of My Family
Winnebago Studios and Linden CoHousing Gallery
Madison WI
Becoming Ourselves
City County Building
Madison, WI
Portraits
Artist and Craftsman Gallery
Madison, WI
Portraits
Gallery on 7th, UW-Madison Division of Continuing Studies Gallery
Madison, WI
Painting the Past: Memories of Home, Family, and Belonging
Bethel Lutheran Church
Madison, WI
Realism
Muscoot Farm Show, Students of Todd Casey
Katonah, NY
Faces of Incarceration, MOSES Annual Dinner Exhibition
Advent Lutheran Church, St. John's Lutheran Church, Lake Edge Lutheran Church, Christ Presbyterian Church, and Friends Meeting House
Madison, WI
Faces of Incarceration
Overture Center
Madison, WI
Faces of Incarceration
Winnebago Studios
Madison, WI
13 Women
Bos Meadery
Madison, WI
Beauty and the Beast
Yahara River Gallery
Madison, WI
Self Portraits
Commonwealth Gallery
Madison, WI 
Studio Address
107 Sutherland Ct.
Madison, WI 53704
Studio 128
I periodically send out information regarding my art and when/where you can see it. Your information will never be shared.